Water and waste treatment

Distinctive qualities:
High braking load and resistance to wear and fatigue even in environments with aggressive agents, greater resistance to corrosion, long service life, standard or custom design and materials.
Sircatene chains for water and waste treatment plants feature greater quality that ensures long service life even under extreme conditions: maximum resistance to corrosion, ability to operate perfectly in hostile or extremely corrosive environments.
The ultimate resistance of Sircatene products for water and waste treatment plants roots from experience and cutting-edge technology.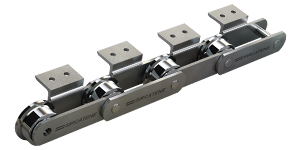 Heat treatments carried out entirely at our premises improve the performance of materials while specific surface treatments increase their resistance to abrasion and corrosion, ensuring longer service life to the chain, even when the chains is fully submerged in fluids.
The careful manufacturing process, the selection of materials and heat and surface treatments bring less maintenance, and greater performance for purification systems and water and waste treatment systems.
Strong and fully resistant to corrosion, even if completely immersed in fluids, thanks to the specific surface treatments and the perfect selection of raw materials
Sircatene chains comply with the regulations provided by various laws on hygiene and safety and do not release any harmful substance into the environment.
Standard high quality solutions are available, but each chain can be made, designed and engineered according to precise requirements of the client to increase the performance of the water and waste treatment plant and reduce its environmental impact thanks to a consistent and effective operation.