Escalators

Distinctive qualities
Long service life, resistance to heavy loads and extreme weather conditions, reduced maintenance, performance above standard
Reliability, resistance and high manufacturing accuracy. Sircatene chains for mobile stairs feature high mechanical quality that ensure long service life, high safety standards and reduced maintenance.
High mechanical qualities ensure accurate execution, reliable operation even outdoors, safety, resistance to wear and breaking loads above standard
The chains are made using materials and techniques aimed at reducing wear of every single part, ensuring continuous operation both in very crowded places subjected to heavy stress and under extreme weather conditions.
Particular attention is given to each element of the chain, from design to manufacture. The use of precision machine tools and heat treatments performed in Sircatene facilities, accurate dimensional checks and careful final assembly all ensure perfect performance of the product and maximum operational safety.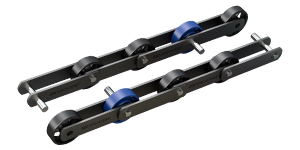 The Sircatene know how and the engineering experience acquired in over 40 years of activity, offers the main manufacturers of escalators a wide range of chains designed for specific requirements and able to meet the strictest safety standards specific to such products.
The high mechanical precision guarantees noise-free operation and easy assembly.