Steel industry
Distinctive qualities:
High technological content, resistance to high strain and stress, high breaking load.
Resistant to fatigue, wear and high stress, Sircatene chains for the steel industry work at high temperatures, convey heavy loads, work in continuous mode, even in the presence of abrasive powders and extreme weather conditions.
The chains are used in various phases of steel manufacturing process, from storage of raw materials in special areas to transfer for subsequent crushing, grinding, and processing, conveyance to the top furnace and final transport of processed material.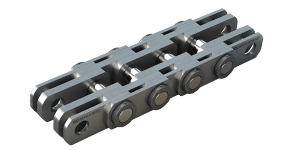 The resistance to high temperature, hostile environments and powders, ensures perfect operation of chains even in coal preparation plants, furnaces, casting areas and during conveyance of processed products to cooling and storage areas.
They work at high temperatures, and in presence of abrasive agents and also high mechanical stress. Chains made to last over time, even in hostile environments
Sircatene products for the steel industry feature a high technological content and are designed to perfectly fit into the destination plants, with high quality standards, high breaking loads and mechanical features that provide perfect resistance even if subjected to less frequent maintenance.
The reliability of the chains and the careful design of the same have enabled Sircatene to become the main partners of leading manufacturers in the steel industry.