Amusement Park industry
Distinctive qualities:
Reliability and high breaking load, resistance to wear, reduced maintenance.
Safety and reliability, ability to maintain high working cycles even under critical conditions, even if fully or partially immersed in water, resistance to wear and long service life: these are the qualities that must be featured by the chains that drive the attractions in an amusement park.
Experience, versatility and the high quality standards of Sircatene ensure the production of strong chains, resistant to high dynamic stress and high breaking loads.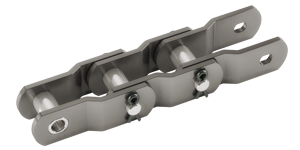 The choice of materials and the heat and surface treatments of mechanical parts ensure that the products feature high resistance to corrosion due to atmospheric, chemical and physical agents even in the case of chains that operate under water or in hostile environments.
Reliable and safe. Designed for high breaking loads, resistant to corrosion and wear even under extreme conditions
Accurate execution, minimum tolerances, the selection of the lubricant, where applicable, and the correct assembly reduce wear due to friction, thus leading to minimum scheduled maintenance and reduced operating costs while ensuring maximum safety.
Strict checks carried out throughout the manufacturing process ensure a reliable and safe product, with perfectly calibrated breaking loads, well above the usual standards.