Food industry

Distinctive qualities:
Innovative and safe materials, resistant to fast temperature changes, self-lubricating technology.
Sircatene proposes a wide range of chains for the food industry: from the production of pasta to yoghurt and ice cream.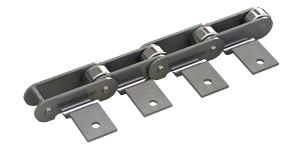 In this sector, the best solutions develop from experience and technological innovation.
Execution specifications and strict controls make Sircatene chains for food industry safe in terms of hygiene, suitable for continuous production cycles in cooled, dry and wet environments.
The careful selection of materials and the functional design of the plates, properly dimensioned parts and minimum tolerances translate into performance and minimum maintenance.
The use of certified lubricants eliminate the risk of food contamination.
Raw materials, accurate execution, heat and surface treatments carefully performed in full compliance with the hygiene regulations in force, to ensure reliability and long-lasting service
The Technical Research centre of Sircatene have developed significant know how in designing and manufacturing chains for the production of long and short pasta, for dryers, yoghurt and ice cream.
The above is completed by the experience acquired in over ninety years by the subsidiary company Fossati Catene, a leader in the sector.
Always in search of new solutions, Sircatene Spa also manufactures self-lubricating chains that ensure maximum performance of the plant and significant cost savings. For the above reasons, Sircatene is a reference point for the main engineering companies and manufacturers of the sector.