Chemical and fertilizer industry

Distinctive qualities:
High technology, resistance to heavy loads and corrosion, providing constant performance in extreme conditions.
Made to operate in extreme conditions and hostile environments, Sircatene chains for the chemical and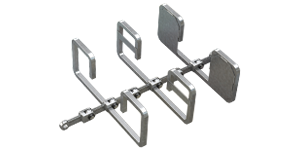 fertilizer industry feature greater resistance to corrosion and wear, greater breaking load and a longer service life.
Such great performance was possible due to the technology used during design and execution.
The control of tolerance between the pin, the bush and roller, the correct mounting pressure are the mechanical features that enable Sircatene chains to reduce wear due to friction and increase the service life of the chains.
Made to ensure safety and compliance with the environmental regulations in force. Resistant to wear, chemical and atmospheric corrosion, also due to specific surface treatments applied
Whether they are lifting chains for conveying materials into silos or conveyors designed for various dispatching or transformation phases, Sircatene products for the chemical and fertilizer industry ensure reliability and safety, maximizing the productivity of the plant and fully complying with the regulations in force.